Fidelity Life Assurance
Fidelity, or faithfulness, is the cornerstone of our existence. It's what we're all about.
Our Dynamic Divisions
Fidelity Life Assurance of Zimbabwe is the mother brand under which various other business units sit, as depicted in the organogram below: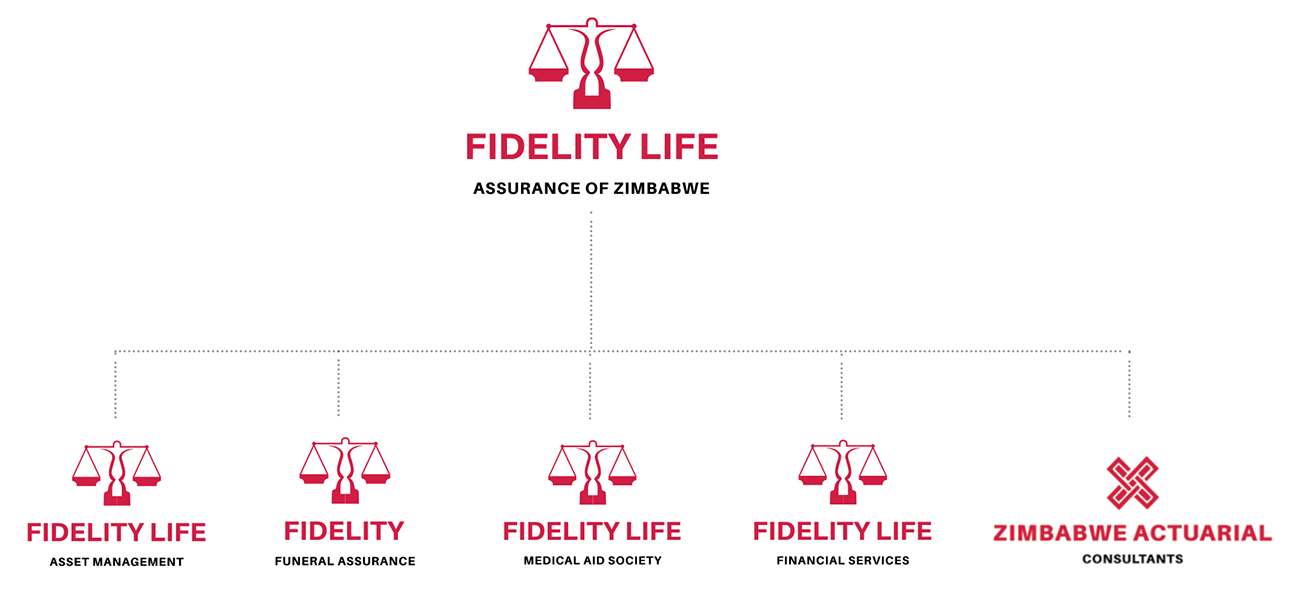 Fidelity: Future, Past & Present
Why you can have faith in Fidelity
Fidelity, or faithfulness, is the cornerstone of our existence. It's what we're all about. For great off–the-peg and tailor-made products and services that guarantee financial peace of mind, you can indeed have faith in Fidelity, through our various subsidiaries, in both local and regional spheres.
An Accomplished History
Ours is a long story, rich in history and accomplishments. Established first in the United Kingdom as
Legal and General (Pvt) Ltd, Fidelity Life Assurance Zimbabwe came into being in 1936 when a branch was opened in Bulawayo.
In 1988, a local consortium then bought the long-term assurance division, cementing it as a truly Zimbabwean brand.
In 2016, Fidelity celebrates its 80 year anniversary, a fantastic achievement we are justifiably proud of.
ISO Pioneers
Fidelity Life was listed on the Zimbabwe Stock Exchange in 2003. In 2005, we became the first Insurance Company to receive ISO certification, as our vision to deliver quality service across the board became reality.
Super Subsidiaries
In addition to the core business of long-term assurance, Fidelity Life also has subsidiaries in related fields of financial services, offering:
Medical Assurance
Asset Management Services
Funeral Assurance
Financial Services, Micro & Business Lending
Actuarial Services
Over the years, Fidelity Life has developed innovative products and services to ensure members receive maximum returns and exceptional cover. It's why we are one of the most trusted and respected life assurance and financial services companies in the region.
Vision, Mission & Values
Clear, Unblinkered Vision
Our vision is simple. We aim to be the preferred Life Assurance and Financial Services provider in Zimbabwe and the region.
We will stop at nothing to build an incomparable organisation dedicated to providing lifelong value, quality service and products for policyholders, shareholders and staff, across generations and business functions.
We will make sure our clients are happy by:
Providing unique and innovative products and services that meet our customers present and future needs
Maintaining structures and processes that deliver integrated, flexible and timeous service for true customer satisfaction
Delivering consistent returns for the benefit of all our stakeholders
What we stand for:
Fidelity: We are true to our clients; we do not break their trust
Innovation: We are consistently improving ourselves, our products and how we work
Teamwork: We work better when we work together
Empathy: We listen and understand before we talk
Recognition: We encourage and reward achievements